Flaspohler Family Picture ( ca. 1895 )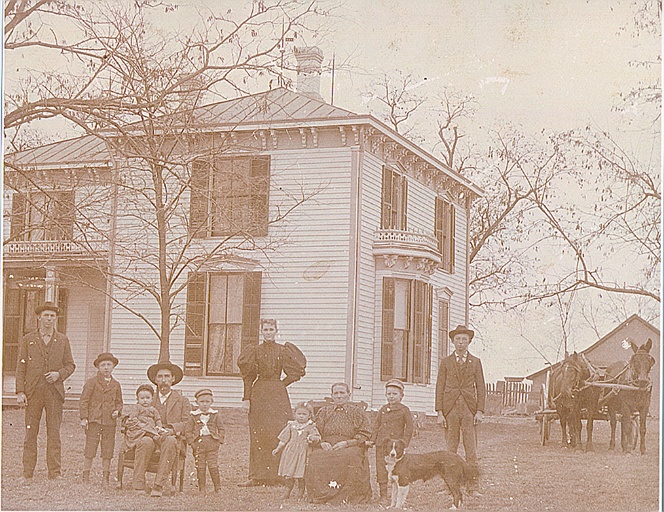 Henry and Dora (Haskamp) were married in Warren County 26 SEP 1876. They moved to Aholt in Chariton County in 1878. In 1892 they moved to a farm about three miles west of Armstrong in Howard County. This picture was taken in front of that house (later owned by George & Agnes Hammonds. The photo was taken sometime before May 1895.

Pictured (L to R): Robert Francis [b: MAY 1878], George [b: OCT 1885], Joseph Henry (on lap) [b: OCT 1892], Henry, Albert [b: DEC 1890],Tilley Web (household aide), Olivia [b: DEC 1993], Dora, Willie [b: JAN 1888], Louis [b: OCT 1880].

Harry [b: MAY 1895], Minnie [b: JUN 1897], and Helen [b: NOV 1898] were yet to be born when the photo was taken.

The family moved again in 1909 to a farm one mile east of Glasgow. Henry died 29 JULY 1913. Dora died 12 SEP 1950. Joseph Henry grew up to marry Mary Ann Westhues. Their children included Mary Teresa who married J.Y. Miller. Their son, J. Y. Miller, married Mary Elsie Henderson. Their son is J. Y. Miller III, who married Lori Terese Maurer. Their sons are Addison James Miller and Jackson James Miller.




Go back to Love Story page.